How to follow the steps to gain your first AAAtraq star
Sep 26 2022
When you login to the AAAtraq system, you'll immediately see your dashboard. From here you can access your 'Account', 'Vendor' and 'Policy' details, and amend the key 'People' who are responsible for web content and risk. A separate article and video is available on these aspects - the icons to the left of your dashboard.
This article is focused on helping you to get started, so that you can gain the protection of costs coverage insurance. Later you increase your coverage by completing the steps required to gain your first star.
We have also created a video on the steps of how to go through the process to get your first star with AAAtraq:
Track your progress
The grey box to the right of your dashboard provides all the information that you will need to track your progress.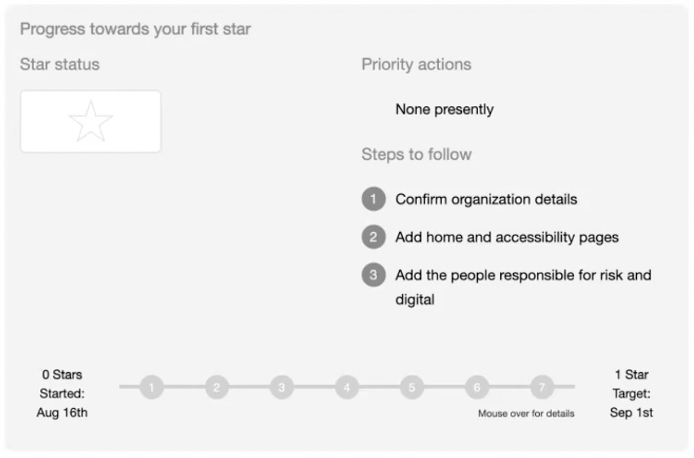 In the grey box you will see the following:
Star status - this indicates your progress towards your next star and will remain unfilled until you have completed all steps of the process.
Priority actions - each time you log into the system this section will indicate what you need to action next. You will also be sent an email notification to make you aware that it is time to take care of this.
Steps to follow - here you will always see the next steps that you need to take care of on your journey to gaining your next star.
Progress bar - this indicates how many steps there are to the process and where you are on your journey.
Going through the steps to get your star
Simply start by clicking on step one, which is displayed under 'Steps to follow'. Once complete, continue clicking and completing steps until the progress bar illustrates that they have all been completed for that Star.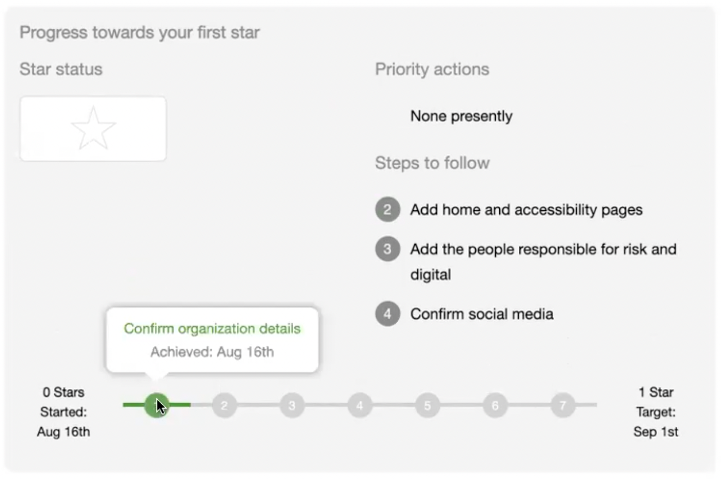 Once you have completed a step it will be shown as completed by being filled green, and you will be able to see the date it was carried out.
1. Confirm organization details
Firstly, you'll need to confirm your organization details, which includes the name, town or city, country postcode and where applicable, the incorporation number. Simply enter the information requested into the fields provided and press confirm. Once complete you will be returned to the main dashboard, and you will see that your progress has been logged.

This is an important stage, as by completing it you will receive your costs coverage insurance policy.
The 'Assign' button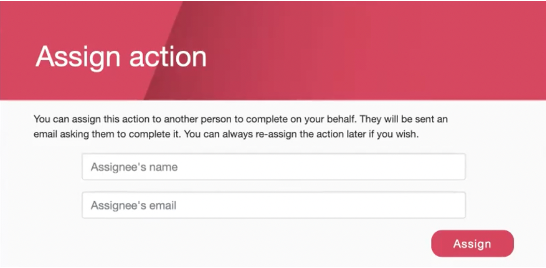 The assign button can be used during most steps. This allows you to enter the details of another person who you wish to take care of the task, and then assign it to them. This is particularly useful for more technical tasks where the expertise resides with somebody else (internal or external).
2. Add the home and accessibility pages
Simply type, or copy and paste, the URL of your homepage into the first entry field. Next, you'll be prompted for the URL of your accessibility page, but don't worry if you don't have one.
It's a good idea to have a dedicated accessibility page but not essential at this stage. If you don't currently have anything in place you can leave this field blank and click through.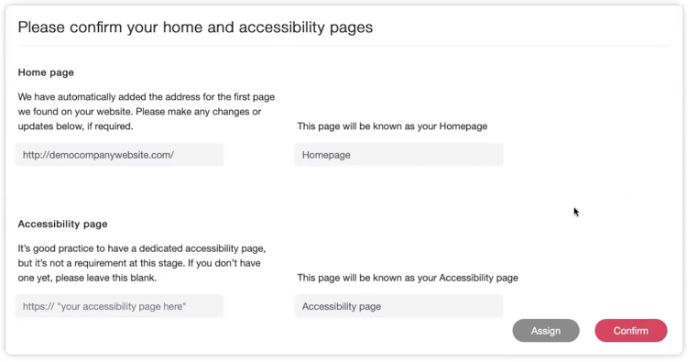 3. Add the people responsible for risk and digital
Now you are ready to add the person who has the ultimate responsibility of managing risk at your organization, their title/role might cover legal or compliance. Similarly, you will need to do the same for the person in charge of web content.
We understand that for some organizations, particularly smaller ones, this may be a combined role. For this reason, on this page you have the choice of adding an individual name and e-mail address for somebody that carries out a dual role.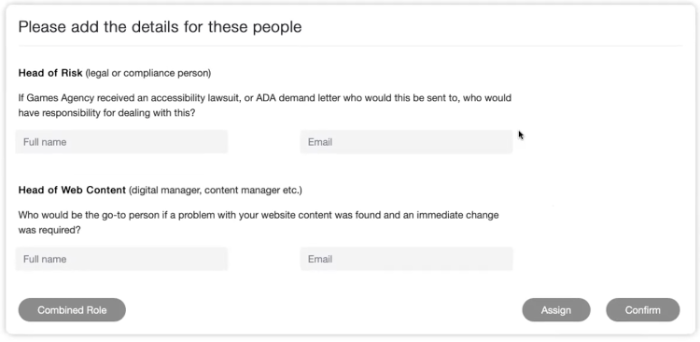 4. Confirm social media
This is an optional task where you can show your Twitter followers that you're committed to offering the best possible online experience for users. All you need to do is press the Tweet button to send the composed Tweet. If you don't have a Twitter account, or you're not able to do so, you can also just click confirm to move on to the next step or use the assign button to transfer the task.

5. Add vendors
You'll need to enter the details for each vendor that is able to access and impact your website. Whilst you won't need to provide their role or the function that they fulfil, it's useful for you to think of that to ensure that you have entered all the relevant parties.
These would obviously include your main web developer (if you outsource this) and anyone that maintains the site. However, it could also include content creators, online service providers and any accessibility testing or checking services providers that you use.


Once you have completed entry of 'all' vendor details you will be given the opportunity to review and confirm before moving to the next stage.
6. Inform vendors
The vendor management system will compose an e-mail for your vendors advising them to review their understanding and commitment to suppling accessible services. You can also login later to view a record of all activity on this matter.
Prior to sending this you will be given one more opportunity to review the vendors entered and ensure that their contact details are correct. Then, you simply need to confirm, and the e-mail will automatically be sent to all those listed.

7. Add the AAAtraq shield to your website
At this stage you'll be provided with a string of code (site tag) that will be used to add the AAAtraq shield to your website. Of course, in most instances the web developers will take care of this, consequently the 'Share with developers' button has been provided so that you can issue instructions to the relevant person without leaving the AAAtraq system.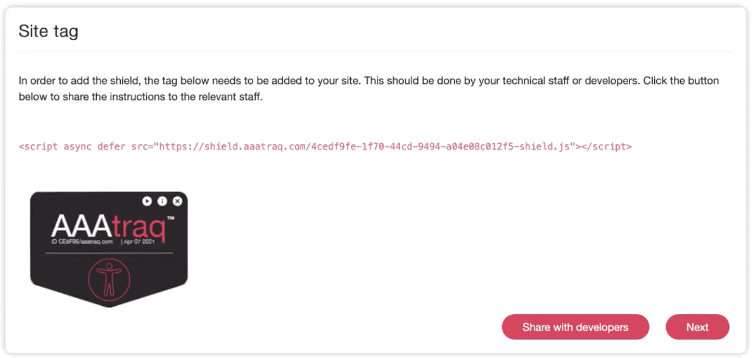 8 . Receive your first Risk Summary
Congratulations! You have completed the first and most important steps and gained your first star. You now have $10,000 worth of cost coverage insurance and you will be notified by email when your Risk Summary is available to view.
The Risk Summary will be compiled based on AAAtraq's risk assessment of your site. It contains a single 'Compliance Score' that makes it straightforward for you to understand your current situation, and to measure the progress that you make. The higher the score, the greater the number of compliance issues, and higher the risk! This is highlighted by the risk indicator (also provided) where green indicates a good score, and red is bad.
What next?
Don't stop here, you've made fantastic progress to get to star 1. Press on to Star 2 and beyond, then you'll further reduce your risk and be rewarded with higher costs coverage insurance.
Subscribe to AAAtraq and enjoy complete cover and peace of mind
Recent articles