Web accessibility statement
The first thing to understand is your site content's current level of compliance. We do this with an automated audit based on accessibility check points – in accordance with accessibility guidelines WCAG 2.1.
Sign up to receive your personalized risk profile. It's free, it's fast and it's independent. Your profile will give you:
an independent assessment of your digital content's level of accessibility

a measure of your current level of risk

an outline pathway to compliance together with key milestones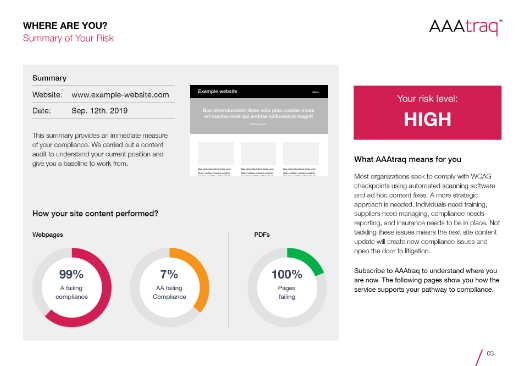 ARE YOU
AT RISK?
Get your summary of immediate risk
The process is simple: input your email address, set-up an account in seconds, receive the RISK PROFILE by email.
RISK LEVELS
Discover your website's current level of risk.
LOW
With low risk, you are in the top 5% of the market. Don't be too complacent as you still have issues to address.
MEDIUM
Falling foul of some potentially basic failures overshadowing remedial improvements.
HIGH
You are at considerable risk of litigation and damage to your brand. The failures we're finding are prominent to all and ignoring could have a detrimental impact.
PATHWAY TO COMPLIANCE
The RISK PROFILE also provides a clear pathway to compliance, with milestones and timelines. Once you subscribe:
you'll know what to do and when to do it

any uncertainty will be replaced by confidence and control as you progress along your pathway

you'll gain valuable stars along the way, clearly demonstrating your progression

your insurance cover will automatically increase as you gain stars